Testimonials
We just want to say… Thank You!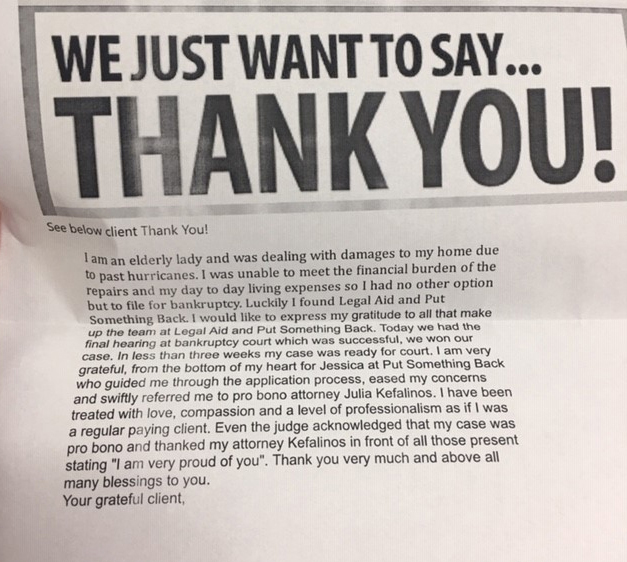 Your grateful client
I recommend Miss Julia with all my heart
She helps us with an always good positive attitude and professionalism. She is fast in the process and she keeps in touch with you all the time like you don't see with other lawyers. She brought peace to our family and personally to my husband. She is a strong woman and she will fight for your rights to the end.
Susmayle Diaz
I can sleep again
Dear Julia and Theresia,
I cannot express with words my full appreciation and gratitude. Never before have I witnessed professionalism and sympathy demonstrated the way you have. I thank you for giving me back the ability to sleep. Please keep up the great work!
A. P.
Wonderful Lawyer
She helped my mother.
Doris Acuna
Julia Stands for Justice!
Julia has represented me in two different criminal cases and has shown me she is one of, if not the best lawyer in Miami Dade County. She fought for me each time and wouldn't quit until she could get the best possible outcome!
305 STYNE
A Compassionate and Professional Legal Team
Throughout my case, Julia Kefalinos and her legal team were very informative and supportive as they guided me through the bankruptcy process. They were quick to answer my questions and concerns, even after hours. They were always completely honest, professional, compassionate and patient with me. I had a very positive outcome to my case and would recommend the Law Office of Julia Kefalinos, P.A. to anyone who needs assistance with bankruptcy or debt relief.
Evangelina Altamirano
Great Person to Work With
A quality and caring attorney. Aggressive and confident and in general a great person to work with. It was an absolute pleasure having her handle my case and would only ever go to her for my legal needs.
xArkangelx
The Best Lawyer in Town
Hands down the best lawyer in town. First class service from start to finish. Office staff and Julia always attentive and very personal and hands on throughout the whole process. Always able to speak with Julia as in many cases attorneys are hard to reach but was always reachable and there when needed. With out a doubt would recommend to everyone and hire Julia if needed again and best of all were the results. Another victory for Julia and my self going through a difficult moment in time. Once again thanks for everything and always being there. Definitely the best attorney.
Luis Carbonell
Has The Respect of Judges and Prosecutors
Julia Kefalinos and her team did an excellent job for me under very difficult circumstances in my life.  They are experienced and had a very calm demeanor.  She had the experience and knowledge to know how to proceed with my case.  More importantly, it was obvious when we appeared in court that she has the respect of both judges and prosecutors.
J. Carbonell
"Hands down the best lawyer in town…"
L. C.
An Attorney Who Really Cares
Just wanted to thank you again for being such a wonderful, cool and understanding person, and needless to say, an awesome criminal attorney as well. You have gone beyond your call of duty in not only believing in us but going out of your way to fight and protect us for what is right!
Your knowledge of the justice system helped us through a difficult time with very satisfactory results!
V. Perez
Amazing Help With My Foreclosure
When my grandfather died and left me his property, I was overjoyed! I quickly learned, however, that this was going to be too much of an expense for a college student to keep up and even though I work 2 jobs and go to nursing school, I just could not keep up the payments. I called the bank and tried and tried to work out an affordable solution but in the end, I just couldn't make the payments. After the property went into foreclosure, I contacted Julia Kefalinos to help me with the foreclosure of my grandfather's property. Julia is a magnificent lawyer and really helped explain foreclosure law and what I need to do to help. In the end I really had a wonderful experience and the foreclosure case against me ended on a positive note. I would absolutely recommend Julia Kefalinos to anyone who needs help with their foreclosure cases!
Amanda D'Alessio
Best Debt Lawyer In Miami!
Best Debt Lawyer. I consulted with Julia on my bankruptcy case. I found her to be very knowledgeable and intuitive about the process and she did a great job for me. Always there to answer your questions and her office was friendly and helpful as well. If you need a good lawyer for you debt and bankruptcy, hire a competent attorney like Julia and you will receive a nice sunny disposition!
Don Cockroft