Can an Out-of-State Domestic Violence Order Affect My Florida Parental Rights?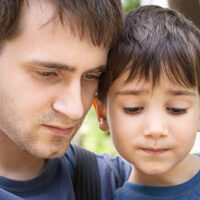 Child custody disputes often turn nasty in Florida. In many cases, one parent will accuse the other of domestic violence in order to try and gain the upper hand in a custody battle. There's a good reason to employ such tactics: Because they work.
Florida law generally presumes that both parents should share custody of a minor child. But if one parent has been convicted of a domestic violence crime, that presumption goes out the window. Instead, the law applies a new presumption that allowing a parent found guilty of domestic violence to share custody would be "detrimental" to the child. This presumption can be overcome, but the burden is on the guilty parent to show that they are not a danger to their own child.
Florida Court Reverses Visitation Order Based on Kentucky Court's Findings
Even without a criminal conviction, a parent's rights can still be negatively affected by a domestic violence protection order. This is a civil restraining order issued against a person accused of domestic violence. The burden of proof is lower than in a criminal proceeding, so it is easier for an accuser to obtain.
Domestic violence orders often prevent a person from having any contact with the accuser and other members of their household, including any children. In deciding a child custody matter, Florida courts must take these restraining orders into account. This includes orders issued by a state other than Florida.
For example, the Florida First District Court of Appeals recently overturned a trial judge's ruling allowing a father supervised visitation with his minor child. The mother previously obtained a domestic violence protection order against the father in Kentucky. This order remained in effect at the time of the Florida judge's ruling on child custody issues. And although the judge was aware "that domestic violence occurred during the marriage" of the parents, the court apparently did not consider the specific terms of the Kentucky order.
The problem, the First District explained, was that the Kentucky order "prohibits the father from coming within 500 feet of the minor child." So even granting the father limited, supervised visits with his child would violate these terms. And under the U.S. Constitution and state law, Florida is required to give "full faith and credit" to the court orders of all other states. In other words, the Kentucky domestic violence order applies with the same force as a similar order issued directly by a Florida court.
Do Not Let a Domestic Violence Charge Take Your Kids Away
As you can see, a domestic violence charge can destroy your legal right to parent, or even see, your own children. That is why you need to take any domestic violence allegation seriously. Do not assume that nobody will believe a false accusation. In these situations, accusers usually get the benefit of the doubt. So your best chance of protecting your rights is to work with an experienced Miami domestic violence defense lawyer. Contact the Law Office of Julia Kefalinos at (305) 676-9545 if you need to speak with an attorney right away.
Source:
scholar.google.com/scholar_case?case=6830568187439632966