Is It Time To File Bankruptcy?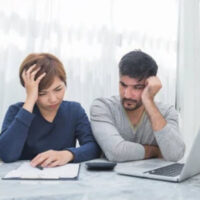 If you are feeling overwhelmed by creditors' calls and having to dodge strangers on your porch, you may believe that you have no control over your future.  But that is far from accurate.  There are options that, while serious, may just give you the breathing room you need to turn things around.  Now may be the time to consider filing for bankruptcy.
How do I know Which Kind of Bankruptcy is Right for my Situation?
As you are about to enter a period with some confusion and doubts, your best bet is to have a knowledgeable attorney who is familiar with bankruptcy issues to advise you moving forward. There are six types of bankruptcy, so knowing a little about each can help you make the best decision:
Chapter 13 allows you to restructure your debt and repay it over a 5-year time frame. You keep your assets and live under a court-approved budget plan.
Chapter 7 requires you to part with most assets, including your home and vehicles, along with the accompanying debt. You start over debt free, but with some credit repercussions.
Chapter 11 is for businesses who wish to continue running while paying off debt, similar to an individual's Chapter 13;
Chapter 12 is exclusively for farmers and fishermen whose debt is threatening property ownership;
Chapter 15 deals with international cases;
Chapter 9 relates to cities, schools, or towns facing huge debt.
What are the Steps?
After consulting with your attorney, decide which type of bankruptcy is the appropriate filing for you.  From there, you will need to spend some time gathering financial documents and information to submit to the court. That will include tax returns, pay stubs, W-2s, bank statements, mortgage agreements, vehicle registration and proof of insurance, and any other documentation of debt.  Retirement information and support payments, bonuses, and lotto wins—all sources of income and debt will need to be included.  There are papers to file, which must then be sent to a bankruptcy trustee who will be handling your case. You will then have a meeting with creditors and the trustee called the 341 meeting, where the terms of the bankruptcy will be determined. From there, you will need to take a debtor education course and a credit counseling course, sign off on agreed upon terms, and get to work putting your finances back together.
A Bridge to the Future
Yes, even thinking about bankruptcy is a monumental task, let alone actually filing.  That's why having Miami bankruptcy attorney Julia Kefalinos with you every step of the way is so crucial.  You can count on a systematic and structured environment in which to proceed, and the weight of the world off your shoulders when all is said and done.  Contact us for a confidential consultation today.