10 Tips For Filing Bankruptcy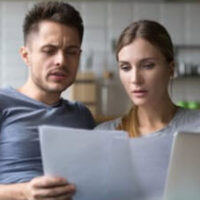 No one aspires to file bankruptcy, although circumstances sometimes lead to this outcome despite best efforts.  A study of the issue tells us that the primary cause for bankruptcy is the loss of income. In 2018 alone, nearly 700,000 people were pushed into bankruptcy, and that number held fairly steady through 2020.  Clearly, many people are finding themselves in financial difficulty.  If you are one of them, here are some things to think about:
It's complicated: Don't try to handle this on your own.  There are more than one kind of bankruptcy, and an experienced bankruptcy attorney will help you determine which is the best for you and help you to navigate the process successfully.
Be honest:  Misrepresenting your situation is perjury and could result in a criminal prosecution.  While it may be tempting to "accidentally" leave something off the reporting forms, it really will just make things more difficult down the road.  Even if your argument convinces everyone that it was an honest mistake, there's every possibility your case could be denied.
Include loans in your name, even if the title is not in your name:  That includes cars you purchased for your kids and put in their names (sorry, those things belong to you in the eyes of the bankruptcy court!)
Be realistic:  Come to terms with the fact that this is the best course of action and accept the consequences, including the resulting hit on your credit score.
Don't load up the debt:  If you figure that since the debt is going to be discharged anyway so you might as well load up the charges, that is a big mistake.  For starters, the court may decide to make you pay for the charges anyway.  More importantly, the action could constitute bankruptcy fraud.
Avoid scams claiming to help:  Many debt-settlement rip-offs are out there, and people frequently spend their limited cash on them before realizing they've been conned.
Avoid transferring a title prior to filing for bankruptcy:  It could be considered an attempt to make it look like you have limited assets, which is fraud.
Never pay off family member loans before filing for bankruptcy:  The law requires loans taken from family to be treated the same as any other loan.
Don't skip out on hearings:  Missing your hearing is a big no-no.  It could result in your case being dismissed; so make your attendance priority one.
Don't put off the decision for too long:  Once creditors start obtaining judgments against you, you might have missed the opportunity.  So get that bankruptcy attorney working on your behalf before things go south.
Call Us
The Miami bankruptcy attorneys at The Law Office of Julia Kefalinos will work to ensure the best possible outcomes for you.  Contact our office for a confidential consultation today.