Bankruptcy And Financial Literacy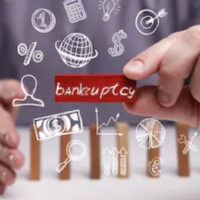 Bankruptcy rates are on the rise, and some experts are sounding the alarm about the connection between financial literacy—or the lack thereof—and bankruptcy filings. What are the issues, and how can they be addressed?
A Problem for Years
A study by the Jumpstart Coalition discovered that the majority of high school students were graduating from high school sorely lacking in necessary finance skills back in the late 90's. Young adults were leaving school unable to make basic financial decisions related to spending, saving, credit, borrowing, and investing.  Many couldn't even balance a checkbook.  When surveyed, students overwhelmingly responded that they learned their financial skills from their parents, who, depending on their experience, may not have had good advice to share.
A survey showed that seniors in high school knew very little about taxes, insurance, inflation, budgeting, and retirement. Students took a short quiz, and only one in ten earned a passing score.
The Linkage to Bankruptcy Filings
It turns out that in states where students scored around 55 percent, there are very high rates of bankruptcy.  Conversely, low rates of bankruptcy occur in states where students scored over 70 percent.
CARE: Judges Educate About Financial Literacy
In an effort to assist those struggling with their finances, bankruptcy judges have been heading to classrooms since 2002.  The Credit Abuse Resistance Education (CARE) program has mobilized these and other professionals in the bankruptcy field to teach financial literacy in schools across America and Puerto Rico. Students are taught about credit card use, student loans, saving for emergencies, and more. Students are provided with scenarios in the classroom to experiment with financial management and to learn about common pitfalls and mistakes that can occur in the real world.
As one judge/instructor here in Florida notes, fundamental money management relies on one's understanding of budgeting, in conjunction with one's understanding of how credit works and the perils of mismanaging it.
Addressing Debtor's Needs
Research indicates that debtors who are struggling financially need help addressing their proximate needs, specifically:
Ways to address their financial situation during the bankruptcy process;
Learning the skills to help them avoid further financial issues following discharge of debt.
Clearly, most people do not set out to land in bankruptcy court. Giving them the skills to avoid financial distress can make a monumental difference to financial success. That includes skills such as:
Developing and living within a budget;
Prioritizing spending;
Living within one's means;
Addressing addictions;
Taking steps to mitigate financial distress during unforeseen events.
When Bankruptcy is the Last Option
At the Law Office of Julia Kefalinos, our dedicated Miami bankruptcy attorneys are prepared to assist and guide you through the bankruptcy process, and point you toward the resources you need to move forward.  To discuss your situation, schedule a confidential consultation in our Miami office today.
Source:
files.eric.ed.gov/fulltext/EJ1280257.pdf