Bankruptcy May Be A Better Solution Than You'd Imagine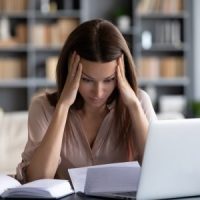 Across the country, bankruptcy threatens families of all stripes.  If you have creditors banging on your door and are getting fried by the stress, maybe filing for bankruptcy is a viable solution for you. The truth is, bankruptcy may not be nearly as intimidating a process as you think.
Exemptions
One frightening thing about bankruptcy is the idea that debtors must part with all of their earthly possessions—but that's not quite the reality!  Exemptions allow individuals to protect certain essentials so that they can still function in society and move forward out of their predicament.  The amount you can keep in a Chapter 7 bankruptcy depends largely on your monthly income over the previous six months, and how that income compares to the median income of similar households in the state. In a Chapter 13 bankruptcy, the debtor keeps everything, since they are simply working out a more amenable repayment schedule.
 Who's Who in a Bankruptcy Proceeding? 
A number of people are key figures in any bankruptcy proceeding.  Among the most important are:
The Debtor: This is the individual who is looking for relief from debt that has become overwhelming.
The Attorney: A bankruptcy attorney advises the debtor legal requirements and proper steps to take throughout the process.
Creditors: These are the ones who are owed money, and who are hoping to recoup as much as possible.
The Judge: A bankruptcy judge is the one who presides over the entire process, and who rules on filings and disputes.
The U.S. Trustee: This individual deals with administrative issues in an attempt to prevent instances of fraud.
The Case Trustee: This person governs a specific bankruptcy case, and their role may depend on the type or complexity of the filing.
Automatic Stay 
One huge benefit of filing for bankruptcy is that debtors are relieved of judicial proceedings against them, and creditors are precluded from taking actions to collect on money owed, including enforcing any liens on the property. These protections are collectively known as the automatic stay.
 Most Common Filings 
There is more than one type of bankruptcy, each with its own advantages and disadvantages:
Chapter 7 involves the liquidation of assets, with proceeds divided up among creditors, relieving the debtor of pre-bankruptcy debt.
Chapter 11 involves the reorganization of debt with a plan to pay back creditors over time. The plan must be approved by creditors with a vote.
Chapter 13 is a repayment plan, as well, based on the monthly income of the debtor and lasting for as long as 5 five years.
 Get the Representation You Deserve 
Misunderstandings about bankruptcy really do make the process seem much more traumatic and deflating than it needs to be.  To discuss the reality of bankruptcy and what it could mean for you, schedule a confidential consultation with the knowledgeable Miami debt relief attorneys at the Law Office of Julia Kefalinos in our office today.