Can I File Bankruptcy For My Student Loans?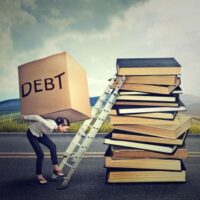 If you've been listening to the political chatter relating to student loan forgiveness, you may be pinning your hopes on the possibility that the Biden administration will be forgiving anywhere from $10,000 to $50,000 in student loans. While there's no guarantee that these amounts, or any amount of student loan debt will actually be erased to provide a clean slate for borrowers who are sinking in student loan debt, the current moratorium on making payments has provided much-needed relief.  That has an end-date that is quickly approaching, though.  If and when payments become required again, are you going to be able to make them?  If not, is bankruptcy a viable option?
It's Not Impossible…
Many people are under the impression that student loan debt is never included in bankruptcy proceedings.  The truth of the matter is that while it is quite difficult to discharge this debt, it is certainly not impossible.  The means test requires that you demonstrate that repayment of your student loan will create undue hardship for you and your dependents.   What does that mean?
"Undue Hardship"
The court has the option of evaluating undue hardship using a number of tests, but one of the most common is the Brunner test.  It requires that the debtor provides evidence of the following:
You have made a genuine effort to repay the student loan(s);
Repayment of the loan(s) would result in the loss of a "minimal" living standard for you and your family;
Financial circumstances are not likely to improve within the repayment period of the student loan(s).
If you can aptly demonstrate that these criteria match your circumstances, your student loan(s) could potentially be cancelled completely.
Examples Courts Might Consider
Every circumstance is unique, and some situations that may lead one judge to accept a finding of undue hardship could lead another judge to reject that conclusion. Previous cases that could have gone either way include:
A senior citizen earning low wages, and having maxed out his or her earning potential;
Working adults whose earnings do not match reasonable expenses, and who have made reasonable attempts to restructure their student loans;
Situations where a borrower attended a bogus school or did not benefit from the education provided.
In terms of convincing a judge that there is little hope that financial circumstances will improve within the time frame of loan repayment, the rulings of different judges on similar cases are not always predictable.  Some that have proven successful at times, and failed in other cases include:
Providing evidence that addiction issues cannot be overcome;
Suggesting that mental health impairments get in the way of progress;
Proving that various health problems and accumulating medical bills show no likelihood of going away.
Giving it a Try
The rules relating to student loan forgiveness in bankruptcy are not nearly as clear cut as rules relating to other debt, making the effort to apply for bankruptcy feel a little scarier for some.  Nonetheless, when the effort results in successfully eliminating all or some of that debt it can be a huge relief.  If you believe you may meet the standards outlined here, now is the time to schedule a confidential consultation with the knowledgeable Miami bankruptcy attorneys at the Law Office of Julia Kefalinos.  We've got your back going forward.
Resource:
studentaid.gov/manage-loans/forgiveness-cancellation/bankruptcy