Pregnancy And Domestic Violence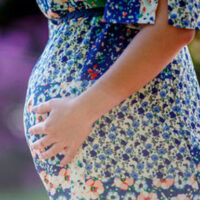 Maybe things were rough in your marriage, but there were bright spots. Sometimes things seemed perfect, and your spouse was incredibly loving, complimentary, and kind.  The violent episodes, though frightening and painful, were rare.  Maybe you thought that pregnancy would bring you closer together, would make your spouse more careful about controlling that nasty temper.  But as your pregnancy progresses, you're discovering that the child you're carrying is no protection against violence and abuse.
Potential Consequences of Abuse
You have more than just yourself to think about now.  Maybe you think you can deal with name-calling, shaming, and even a few slaps and kicks.  But can your baby survive it? Experts tell us that physical abuse can lead to an early birth, low birth weight, soft-tissue damage to the fetus, placental abruption, or even a miscarriage.  In worst-case scenarios, abusers might even kill you and your unborn child. That may be because while abused women typically suffer blows to the head and neck (40 percent) or experience musculoskeletal injuries (28 percent), patterns of assault tend to change with pregnant women as their abusers actually target the abdomen in many cases.  Regardless of the focus of the attack, women who experience abuse are nearly 40 percent more likely to experience complications with their pregnancies and/or deliveries.  Additionally, they experience more incidents of renal tract infections, and are more likely to deliver by C-section. Not surprisingly, they also experience higher levels of depression.
After a child is born, abuse does not stop; nor do the consequences to the baby.  Abused mothers are significantly less likely to breastfeed.  Children who grow watching abuse experience a higher rate of behavioral problems and emotional trauma when they see their mothers suffer.  And the abuse often drips down to the children themselves, who find themselves fearful, bruised, and unable to find safety.
You're not Alone
Studies indicate that a whopping eight percent of pregnant women in this country undergo abuse during their pregnancies.  That's well over 300,000 women and their unborn babies every year who suffer.  While the number of women who experience this type of abuse is great, so are the resources available to help.  It's important for you, the abused, to reach out to get the assistance you need:
Share your situation with a trusted friend, colleague, or family member who can help;
Know the number of your doctor in case you need medical attention quickly;
Find a safe place to stay in the event you need it—whether with someone you know, or at a local women's shelter;
Get the legal help that can keep your abuser at bay;
Memorize local hotlines set up to help abused individuals.
Get Help Now
At the Law Office of Julia Kefalinos, our experienced Miami domestic violence attorneys want to help you and your unborn child stay safe.  We can help with legal restraints toward that end.  Contact our office to schedule a confidential consultation today.
Resource:
ncbi.nlm.nih.gov/pmc/articles/PMC2442136/