Is Chapter 7 Bankruptcy the Right Move for You?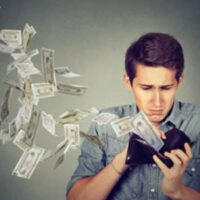 If you're feeling overwhelmed with your financial situation, you are not alone. Nearly 30,000 bankruptcy filings have occurred in Florida so far this year, with about three-fourths of them Chapter 7 filings.  The truth is, many people have been struggling to survive on reduced incomes this year, thanks to the pandemic and other factors that have put an economic strain on many across the country.  As if the stress of counting pennies is not enough, endless hounding by creditors makes you feel frustrated and hopeless.  But the fact of the matter is, legal protections for people who are underwater financially are available to you, and chapter 7 bankruptcy may be a smart option for those who qualify. An experienced local bankruptcy attorney can help you decide if this is the best move for you.
Addressing the Stigma
Bankruptcy laws were established to assist people who need a hand; that may  be you in this moment. Even so, many who struggle with mountains of debt fear that filing for bankruptcy will result in untenable stigma.  Family and friends, not to mention the credit bureau, may not react kindly to such a filing.  But here are some facts to consider:
Although creditors will be aware of your bankruptcy filing, most likely others will not, unless they actively seek information on your finances.
During the current economic downturn, you may find that most people, creditors included, are more sympathetic and less judgmental than you'd expect;
It's more common than you might think; some predictions suggest that 10 percent of Americans will file bankruptcy sometime in their lives.
Benefits of Filing Chapter 7
Understand that you should feel no shame in using a government sanctioned system designed to help you during an economic crisis.  Your debt may be in large part discharged with a Chapter 7 filing, relieving you of payments owed on your lease, medical bills, credit cards, and more.  Imagine the relief of having all those creditors off your back.  Your mental health may be salvaged, and you can have hope for the future.
It Comes with a Price
In a Chapter 7 bankruptcy, you will be required to liquidate many of your assets. And your credit score will take a hit, most likely landing somewhere around 550.  That means future purchases on credit will be more difficult.
Qualifications for Filing Chapter 7
Not everyone is eligible for this particular bankruptcy filing.  Petitioners must earn less than the state average on a monthly basis, must complete a credit counseling course, and must meet other strict guidelines.
Your Legal Advocate
To determine if a Chapter 7 bankruptcy filing is the best move for you, you need clear, unabashed advice from an aggressive and thorough Miami bankruptcy attorney.  At the Law Office of Julia Kefalinos, you can count on nothing less.  Schedule a confidential consultation in our office to discuss your circumstances today.