Revlon's Bankruptcy Forebodes Trouble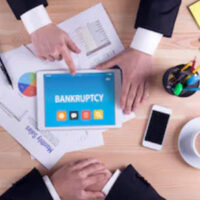 Revlon has been selling cosmetics for 90 years. So when they filed for bankruptcy in June 2022, it gave many observers cause for concern.  Yes, the company was having some serious problems with debt, and has certainly been surprised by some of its modern competition.  Those issues were specific to Revlon.  But there were also plenty of factors that make future bankruptcies among formerly solid companies seem like a greater possibility than ever before.
2020 Help for Struggling Companies
Many companies who were in serious trouble in 2020 survived, in part due to a nice cash infusion by the Fed. Airlines and others enjoyed government bailouts, so that bankruptcies—once expected to skyrocket due to pandemic issues, actually dropped by five points. Nonetheless, there were plenty of firms just making it, and corporate bonds approached $2 trillion.
Problems Compound for Shaky Fiscal Health
There are multiple issues impacting the health of businesses of all types and sizes these days.  In addition to the much maligned supply chain issues, the rise of interest rates and the accompanying consumer wariness is making things dicey, especially for retailers and businesses that are considered as "frills" for many.
Chapter 11
A company that is struggling with excessive debt may file for Chapter 11 bankruptcy, giving it the opportunity to reorganize and try to get through tough times.  This process keeps managers in place but leaves the big business decisions up to the bankruptcy court. It's a good option for companies that are held publicly because it leaves the door open to potential profits down the road.  Changes can be made that allows the company to continue operating, and oftentimes those changes prove to be sensible, long-term adjustments that truly benefit production and sales.  The company works with various committees to put together a plan, which is later filed with the court.  The Securities & and Exchange Commission (SEC) reviews the plan, and creditors/stockholders vote on it.  If all goes according to plan, the Court approves it and everyone works together toward a favorable outcome.
Chapter 7
Under a Chapter 7 filing, the company shuts down altogether, liquidating assets in order to pay off what debt it can but leaving some stockholders holding the bag. This is an option for companies who have untenable debt or other serious issues and for whom continuing operations is not an option.
Making Tough Decisions
If your business is struggling, bankruptcy may be something you've considered.  At The Law Office of Julia Kefalinos, our experienced Miami bankruptcy attorneys can answer your questions and help you move forward.  To discuss the particulars, schedule a confidential consultation in our office today.
Source:
nytimes.com/live/2022/06/17/business/economy-news-inflation-stocks?type=styln-live-updates&label=economy%20updates&index=0#what-revlons-bankruptcy-says-about-the-risk-of-corporate-defaults