Seniors Considering Bankruptcy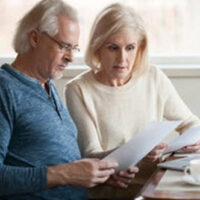 Bankruptcy is no picnic, and for senior citizens it may be particularly challenging.  After spending a lifetime with your nose to the grindstone, it can be devastating to be faced with financial insolvency due to surprise medical bills or other significant issues when you are on a fixed income.  Even for seniors on the verge of retirement, when the weight of bills is overwhelming, you may be thinking about filing for bankruptcy. But there is more than one form of bankruptcy, and the rules surrounding it all are overwhelming and confusing.  Is it the right move?
Is Bankruptcy the Right Option for You?
In order to determine whether you should go through with a bankruptcy filing, it's important to discuss your financial circumstances with an experienced bankruptcy attorney who can analyze your situation and advise you moving forward.  Some things you should consider include:
The source of your income: Some income, such as social security income, retirement pensions, or VA benefits cannot be garnished in order to repay creditors, whereas income exceeding $750 weekly for a head of household from a job is. (In any case, no more than a quarter of your wages can be garnished under federal law.)  Being judgment proof can be comforting because you know you'll always have that source of income. Nonetheless, creditors can still sue you for nonpayment and repossess personal property.
Your ownership of property: In some situations, you may consider parting with your home and other big-ticket items if they are paid off in order to repay debt. However, under Florida's homestead exemption, you cannot be required to sell your home for debts unrelated to your mortgage. The exception is if you take out a loan to make home improvements.  Those lenders may place a lien against your home.
The type of debt you're carrying: Are you struggling with medical debt, mortgages, credit cards, personal loans, or a combination of these? While physical property can be repossessed something like medical debt cannot. You may have savings accounts or wages garnished to address these debts and provide the relief from debtors you may be seeking. Alternatively, debts like alimony, tax debt, back child support, and home equity loans, to name a few, cannot be waived through bankruptcy, so you may be better off looking at restructuring your financial situation.
When it comes to bankruptcy, if you owe a lot but own very little, chances are there will be enough exemptions to allow you to keep most of your possessions.  The law allows up to $4,000 per person, in addition to $1,000 for a vehicle. But if you have significant holdings, you will definitely be forced to sell off items in order to get out of debt. If wages or savings accounts are garnished, you won't be notified about it until after the garnishment occurs or the account is placed on hold.
Getting the Help You Need
If you are intimidated by the prospect and procedure of bankruptcy, having the security of an experienced Miami bankruptcy attorney by your side can provide you with the confidence you need.  To discuss your situation, schedule a confidential consultation at the Law Office of Julia Kefalinos in our office today.
Source:
floridabar.org/public/consumer/tip006/