Florida Physicians May Face Criminal Charges Now That Roe V. Wade Is Overturned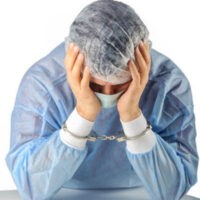 Current Law
In Florida current statute defines gestation as "between fertilization and birth," and abortions may legally be performed up through the 24th week of pregnancy. After that period, abortion is still legal if two certifying physicians believe that either of the following is true:
The woman's life or physical health is in serious danger, or;
The fetus is not viable.
HB 5
Governor DeSantis recently signed HB 5 into law and it is set to take effect July 1, 2022. But as written, there will certainly be legal challenges on both the state and federal level. If Roe v. Wade is abolished, however, the new law will have no roadblocks, and major changes will occur:
Abortions banned after 15 weeks, even in cases of rape, incest, or human trafficking;
Later term abortions are allowed if the mother's life is in danger and two physicians certify as much, or if they certify that the baby will not survive after birth;
Minors wishing for an abortion will have parents notified prior to the procedure;
The Affordable Care Act can cover only those abortions that occur as a result of rape or incest, or if the mother's life is in danger, even within the 15-week period;
Women will be required to undergo a 24-hour waiting period before the abortion is permitted.
Consequences of Breaking the Law
The hammer comes down hard on physicians who defy the new law.  If found guilty of performing an abortion outside the regulations, a physician, in addition to anyone else actively assisting in the procedure, faces up to five years behind bars and up to $5,000 in fines.  The woman herself does not face any legal penalties according to current laws on the books.
Criticisms of the Law
Many people are concerned that fetal abnormalities are often not detected prior to 15 weeks, and women won't have time to learn about issues within the allowed time frame. This issue, in addition to the well-known complaints about the government overstepping its rights by butting into a woman's private health care decisions, have brought out sweltering criticisms of the bill.  Some point to the cruelty of forcing a woman to carry a baby conceived in a rape; others note the catastrophic increase in neonatal services that will be required when infants who need extensive medical services are born in record numbers.
The Defense You Need
If you are a practicing physician who is concerned about legal consequences of doing your job, the experienced Miami criminal defense lawyers at The Law Office of Julia Kefalinos are here to help.  Schedule a confidential consultation in our office today.
Source:
politico.com/news/2022/05/22/florida-has-a-firewall-protecting-abortion-rights-desantis-supreme-court-could-change-that-00033884