Should You file For Bankruptcy Before Your Home Is Foreclosed?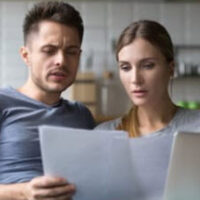 If you are in dire financial straits and are considering bankruptcy, the timing could be important if your home is being foreclosed on.  Your ultimate goals will determine the best course of action, and a qualified local bankruptcy attorney can help you to understand your options.
Is an Automatic Stay through Bankruptcy the Best Route for your Circumstances?
In the event you file for bankruptcy prior to foreclosure, the bankruptcy filing will automatically freeze any and all collections against you.  This stay of action will temporarily prevent creditors from taking any of your assets from you, including your house.  However, when the case concludes and the bankruptcy court discharges it, that stay is also ended and collections will ramp up.  The balance—or deficiency—on your mortgage will most certainly not be wiped out, and the debtors will come calling, but you will have bought yourself some time. If you eventually don't wish to keep the home, you can have peace of mind knowing that there will be no deficiency hanging over your head once the foreclosure is complete.
If you wish to stay in your home and file a Chapter 13 bankruptcy, however, you will be obliged to pay off creditors over a specified time period and can keep the property during that time.  So you could potentially live in your home while making back mortgage payments, eventually becoming current on the debt. This would not be an option if you were foreclosed on prior to the bankruptcy.
Is Foreclosure First a Better Option?
Perhaps you are looking to modify your mortgage.  In this case, you may choose to file for bankruptcy early in the process of foreclosure.  Once the bankruptcy case concludes and your debts are discharged, you may have the opportunity to negotiate a loan modification with the bank, and it is possible the bank will be more likely to approve it due to your reduced debt. If you keep the property through such a loan modification and fail to make those payments, you can ultimately walk away owing nothing.
If you are overdue on condo or association fees, you are not liable for that debt if it was incurred prior to filing for bankruptcy, but you are liable for dues assessed after the filing. This is one more issue to consider as you think about the timing of your bankruptcy filing.
Get the Help you Need
Clearly, there are many issues to consider when thinking about bankruptcy.  That's why having an experienced Miami bankruptcy attorney advocating for you from the beginning is your best bet. At the Law Office of Julia Kefalinos, you will get the knowledgeable advice you need to make the best decisions going forward.  Contact our office for a confidential consultation today.
Resource:
flsb.uscourts.gov/mortgage-modification-mediation-program-mmm