The Importance of "Beyond a Reasonable Doubt" in Florida Criminal Trials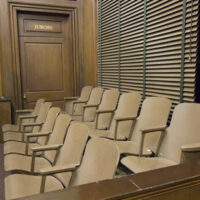 Even if you have never been charged and tried for a crime, you have probably heard the phrase "beyond a reasonable doubt." This refers to the legal standard of proof the prosecution must meet to convict anyone of a crime. It does not matter what the crime is–whether it is misdemeanor DWI or felony murder, the burden of proof is always "beyond a reasonable doubt."
How Florida Instructs Juries on "Reasonable Doubt"
So what does "beyond a reasonable doubt" mean in practical terms? Basically, after the prosecution and defense have presented their evidence, the judge is required to instruct the jury on the applicable law of the case. These instructions must include an explanation of "beyond a reasonable doubt." Among other things, these instructions must make the jury understand:
The defendant started the trial with the presumption of innocence. In other words, the defendant is not required to "prove" that he or she did not commit a crime.
The presumption of the defendant's innocence can only be overcome "by the evidence to the exclusion of and beyond a reasonable doubt."
The prosecution must prove "each material allegation" made against the defendant beyond a reasonable doubt.
A reasonable doubt is "not a mere possible doubt, a speculative, imaginary or forced doubt."
A reasonable doubt can "arise from the evidence, conflict in the evidence, or the lack of evidence."
If the jury finds there is reasonable doubt, it must find the defendant not guilty.
Appeals Court Overturns Second-Degree Murder Conviction Due to Lack of Proper Jury Instruction
In most criminal trials, the judge will give the instructions outlined above. But what happens if the judge does not instruct the jury on reasonable doubt? In that scenario, the conviction is invalid, no matter how serious the underlying charge.
For example, the Florida Second District Court of Appeal recently overturned a second-degree murder conviction due to lack of a proper jury instruction. Prosecutors in Pasco County charged the defendant in this case, Usry v. State, with murder after he allegedly shot and killed another man in the stomach. For some reason, the trial judge's instructions to the jury did not include the standard explanation of the reasonable doubt standard. The jury subsequently found the defendant guilty of murder.
On appeal, the prosecution conceded the mistake. The Second District said this was a "fundamental error" that violated the defendant's constitutional rights. As a result, the appeals court said the defendant was entitled to a new trial.
Contact a Miami Criminal Defense Lawyer Today
Everyone makes mistakes. But when prosecutors and judges make mistakes with respect to basic trial procedure, it can unfairly prejudice the rights of defendants. That is why it is critical to work with an experienced Miami criminal attorney who will fight to protect your rights. Contact the Law Office of Julia Kefalinos at 305-676-9545 today to schedule a consultation with a Florida criminal attorney.
Source:
scholar.google.com/scholar_case?case=14871796344775208910
https://www.kefalinoslaw.com/can-a-judge-impose-a-sentence-without-allowing-me-to-present-evidence-first/