Avoiding Debt Relief Scams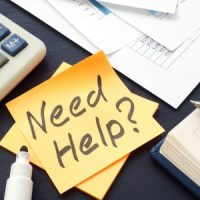 It's one of the most stressful feelings in the world: knowing you're in over your head financially.  Avoiding those debt collectors calls and notices is job one, but how?  While legitimate help is available, there are also unfortunately, a lot of shams out there. That's why it's so important to look for the signs of a scam and do your homework before getting involved with any debt consolidation or elimination plans.
Signs a Company May Not be Legit 
There are some red flags debtors should always look out for when it comes to engaging with money managers. Some of the warning signs include:
The company is very aggressive and perhaps frightens you with the potential of lawsuits from creditors or "limited time" deals to help;
You get Robocalls from the company;
You can't seem to find out much about the company or its representatives;
Their promises seem too good to be true, with low interest rates and quick payoffs;
The company wants to be paid up front, before settling out any of your debt;
They guarantee debt reduction or elimination by a particular date or in a set time frame;
They tell you to stop talking to creditors or to stop making payments altogether;
They claim to be someone they're not, like an IRS agent perhaps;
When you ask for information about their services, they won't send anything until after you share private financial details.
How to Find a Reputable Organization 
It will take a little legwork, but you can definitely find a trustworthy company to deal with:
Do an online check;
Check with the Florida attorney general's office and the Consumer Protection Agency for complaints;
Learn about requirements for disclosure—they have to explain all of their fees and conditions and make estimates related to debt settlement, and must discuss the risks involved with stopping any payments to creditors;
If it's "new," be skeptical and find out more;
Never pay in advance;
Don't believe anyone who says they can eliminate the bad stuff in your credit report (the law requires that it stay there for seven years).
Real Solutions 
At The Law Office of Julia Kefalinos, we want you to know that solutions to severe debt are never quick and easy.  It takes time and effort, which means real sacrifice in order to get out of debt.  But we can help with everything from medical bills to credit card debt. Is the IRS on your back?  We can help.  Are collections officials knocking at your door?  Let us intervene. Our experienced Miami debt relief attorneys will protect your rights every step of the way.  To discuss your situation, schedule a confidential consultation in our office today.