Racial Disparity In Bankruptcy Filings/Outcomes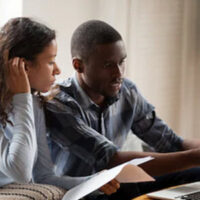 Systemic racism has been a focus of discussion among sociologists and historians for some time.  Whether related to housing, education, or job opportunities, it seems clear there have been extensive roadblocks to Black Americans that have interfered with upward mobility for generations.  Now studies can add racial disparity in relation to bankruptcy to the mix.
Chapter Filings Make a Difference
According to researchers, disparity issues are pervasive, and thrive regardless of factors such as assets, income, or which districts addressed the cases. How large are these inequalities?  Incredibly, individuals living in Black zip codes had their cases dismissed—meaning they got no relief from debtors—more than twice as often as their counterparts living in primarily white zip codes. It is suspected that this is partially due to the fact that Blacks who struggle with debt are more likely to file a Chapter 13 Bankruptcy petition, whereas others opt for a Chapter 7.  The extensive requirements related to Chapter 13 make it much more difficult to navigate a successful outcome over a period of years.  Even so, nearly 60 percent of white debtors have their debt discharged, compared to under 40 percent of Black debtors. What other factors contribute to the disparity then?
1-    Bankruptcy Attorneys' Fees
Attorneys typically do not require the total fee for a Chapter 13 filing until the end of a 5-year period.  While the amount is often three to four times more than the fees for a Chapter 7 filing, the debtors in the most dire circumstances generally cannot come up with a lump sum within weeks of filing for Chapter 7.
2-    Black Debtors Carry Certain Types of Debt in Disproportionate Numbers
Researchers found that Black debtors were saddled with court debts, driver's license suspension debt, and debt related to issues like traffic tickets.  These issues often domino to include issues like having a vehicle impounded and having a license revoked.  Filing Chapter 13 is one way to quickly regain one's license and thereby continue working.
3-    Financially Vulnerable Debtors
The Black population as a whole suffers much greater stress financially than American whites, primarily because the median income is significantly less. Beyond that, though, they face larger fluctuations in their income, and are more vulnerable to financial emergencies.  Additionally, they have far less wealth and home ownership.  Because statistically speaking discharges increase relative to income, this puts Black debtors at a disadvantage. Relative to Chapter 13 filings, the likelihood of having a case dismissed was 50 percent higher for those in Black zip codes than those in white ones.
You Need a Legal Advocate
Regardless of race, but particularly for Black individuals who are considering bankruptcy, it is critical that you have an advocate who can guide you and fight for the best possible outcomes for you.  At the Law Office of Julia Kefalinos, you can count on fair treatment and aggressive advocacy on your behalf.  Schedule a confidential consultation with our Miami bankruptcy attorneys for help.