Getting Through A Holiday Bankruptcy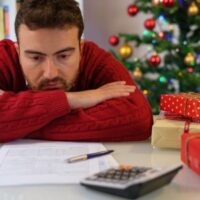 They call it the season of giving.  Nevertheless, for those who are considering filing for bankruptcy, or who've recently filed for bankruptcy, it can be more difficult than ever to make ends meet.  Expectations relating to those holiday meals, not to mention gift giving, travel, and décor can put an incredible strain on families.  If you find yourself in dire financial straits, know that despite your financial difficulties, it is still possible to find joy this holiday season.
Financial Restraint
This year Americans are expected to spend upwards of $860 billion on holiday expenses.  Between gifts (averaging around $650 per person) , food and décor (about $230 per person) and miscellaneous purchases (about $100 per person), the average American is expected to part with nearly $1000 this holiday. But that is out of range for many families due to pandemic losses and economic downturns.  Now more than ever it will be necessary to put the brakes on spending.  That means creating a realistic budget and sticking to it.  There's absolutely no reason you can't share love and happiness on a budget this holiday season:
Be honest with yourself and create realistic expectations for your kids and others on your gift list;
Consider homemade gifts rather than things from the department store;
Suggest drawing names for gifts rather than exchanging gifts with everyone in your circle of friends or extended family;
If you are sending gifts in the mail, avoid additional costs by shipping early;
Give the gift of time: offer an exceptional backrub, a couple hours of babysitting, a week of dog walking, or some other appropriate gift for the people in your life;
Assemble notes and photos to create a memorable gift;
If you simply must travel for the holidays, consider driving instead of flying;
When it comes to holiday meals, be sure to have everyone contribute rather than putting on a big feast by yourself.
Find Inexpensive Activities
Now may be the time to create new and inexpensive traditions around the holidays.  Consider a walk on the beach, a midnight picnic in your living room, going caroling, family bake-night, or other fun ways to connect with your loved ones. Adopt the mantra that it's who you're with, not where you are that's important.
Turn Over a New Leaf
Find happiness in the fact that you will no longer be hounded by creditors, and life is an open road from here on out.  Start to rebuild your credit after filing bankruptcy by using a credit card and paying off the total debt accrued each month. Start putting away a little each pay period to save up for the next holiday season.
Make Sure Your Bankruptcy Attorney Advocates for You
While there's nothing fun about bankruptcy, it's also not the end of the world.  At the Law Office of Julia Kefalinos, our Miami bankruptcy attorneys have your best interests at heart.  Schedule a confidential consultation in our office today.
Resource:
alliantcreditunion.org/money-mentor/how-much-are-americans-spending-this-holiday-season