Criminal Defense of White-Collar Crimes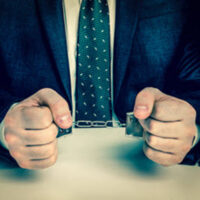 Investigations of white-collar crimes can be lengthy and very much under the radar.  Without warning, you may find yourself accused of criminal wrongdoing. Often, such allegations are based on bookkeeping mistakes, errors in accounting, or other simple misunderstandings.  Nonetheless, your life is in the crosshairs, and you're not sure where to turn.  Now, more than ever, you need frank and trustworthy legal advice from an attorney who is experienced in white collar crime.  At the Law Office of Julia Kefalinos, that is exactly what you will get.
Investigations Lead to Charges
If you're on the top end of the pecking order in your organization, you could be held responsible for any number of white-collar crimes even if you were completely unaware of them occurring.  Prosecutors often assume that if a crime occurred on your watch, you either knew about it or should have known, and they'll come after you.  A years-long investigation could lead the proverbial bloodhounds right to your doorstep!  Before you know it, you're facing charges such as:
Tax evasion;
Fraud;
Forgery;
Securities violations;
Embezzlement;
Money laundering;
Public corruption
Antitrust violations;
Bribery.
Consequences of Charges
The immediate repercussion following these kinds of charges is the devastation of your good name.  Whether or not you are guilty, it's likely that the financial world will always hold a certain degree of skepticism about you.  And if there is a conviction?  You could be looking at fines, home detention, forfeitures, restitution, and/or significant incarceration.  With stakes this high, you have no time to lose.  Is your family going to hang around while all this occurs?  The truth is, you could literally lose everything if convicted of a white-collar crime. Without question, securing dogged and hard-hitting legal counsel immediately is job one.
Your Legal Defense
Here's what the legal team at Kefalinos Law knows:  white collar crimes are viewed as less serious than many other conventional crimes by many prosecutors.  Oftentimes they are dealt with in a haphazard manner, in part because there is no central location responsible for compiling white-collar crime data.  In fact, over a dozen special agencies deal with such crimes, not to mention nearly 70 sheriff's offices and more than 300 different police departments across the state.  The sheer magnitude of places information can flow to and from creates inefficiencies that leave holes in a prosecution; inefficiencies that a seasoned attorney can exploit.
Let's face facts here:  you've spent your career carefully constructing a reputation and livelihood that is at serious risk.  At the Law Office of Julia Kefalinos, our Miami criminal attorneys know how to skillfully attack criminal charges. This is too important to leave to chance.  Contact our office today to schedule a confidential consultation.
Resource:
fdle.state.fl.us/FCJEI/Programs/SLP/Documents/Full-Text/Broughan-Crystal-paper.aspx