Witness Tampering has Consequences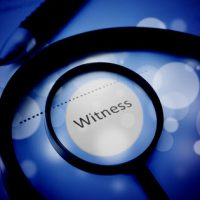 Sam Bankman-Fried had been staying at his parent's home under a $250 million bail deal, but lost the privilege after the prosecution accused him of witness tampering, and the judge agreed. That landed him in a jail cell, despite objections he would not be able to prepare for his upcoming trial properly. What, exactly, did Bankman-Fried do to lose what freedom he had?
Media Contacts 
According to the government, Bankman-Fried had been in near constant contact with the press in recent months, with over 100 emails and ten times that number of phone calls to various members of the press. The deed that ultimately did him in was the public release of private diary entries made by his former girlfriend, Caroline Ellison.
How is that Witness Tampering? 
Ellison was formerly the chief executive of Alameda Research, the failed crypto hedge fund run by Bankman-Fried. She had been cooperating in the case against her former beau, who is looking at charges of securities fraud and wire fraud in conjunction with the FTX fraud charges.  The government believes Bankman-Fried is indirectly intimidating Ellison through the press, and the judge agrees.
A Similar Case? 
Some are noticing that there's a similar situation brewing related to former president Donald Trump. Certainly, his all-caps Truth Social post warning, "IF YOU GO AFTER ME, I'M COMING AFTER YOU!" could be viewed as a threat. So, too, could Trump's remarks about former vice president Mike Pence. The name calling, derogatory remarks, and suggestions that Pence ought not testify are nothing new for Mr. Trump, and his public remarks have already landed him in hot water, getting him mildly sanctioned.  It remains to be seen whether Trump will face more aggressive sanctions down the road, such as a gag order or incarceration.  Both are extraordinarily complicated.  On one hand, justice should be equal for all defendants; on the other, stifling the speech of someone who's running for president is a tricky matter.
What About You? 
Assuming you are not running for public office, it would be fairly simple to sanction you if there's a good case against you for witness tampering. According to Florida Statute, witness tampering is defined as any attempt to tamper, harass, intimidate, or interfere with a witness, confidential informant, or alleged victim. If these actions are intended to get someone to change their testimony or fail to show up to court, it could lead to felony charges against you. And the intimidation needn't be direct, as is evinced by the Bankman-Fried case.
 Have You Been Charged with Witness Tampering? 
Adding witness tampering to other charges you may be facing could add years to your sentence, not to mention could result in severe penalties before you even get to trial.  To fight these charges, you need a Miami defense attorney.  At The Law Office of Julia Kefalinos, you can count on us to fight for the best possible outcomes for you.  To discuss, schedule a confidential consultation in our Miami office today.
Source:
nbcnews.com/business/business-news/us-judge-sends-sam-bankman-fried-jail-witness-tampering-rcna99519