Facing Retail Bankruptcy? Consider Subchapter V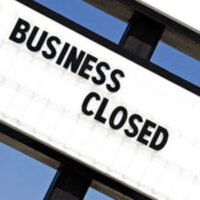 Cash just isn't flowing like it was before COVID-19 hit.  It's impacted families all over the country.  And that's become part of a vicious cycle.  As consumers reduce spending, retailers can't move their merchandise.  That means suppliers are dealing with cancellations on orders, making them unable to keep employees on staff.  Layoffs mean families don't spend, meaning businesses don't sell.  And round and round we go.
The Only Escape for Retailers
All of this has led retailers to sink or swim.  For many, liquidation is the only option.  And it's not just the small businesses that are suffering.  Giants are falling hard too, with big names like JCPenney, Neiman Marcus, and Brooks Brothers all filing for bankruptcy in recent months.  While some businesses have reemerged with a good fight, others are gone for good.  Department stores and clothing outlets have been hit the hardest, accounting for half of all store closings due to bankruptcy.  Even more have shuttered without filing.  Fewer competitors in the marketplace may help those who've survived thus far to get a leg up on 2021; but people are still cautious about spending, and about being out and about during a pandemic.
The Business Stress Test
So how, exactly, is business looking for 2021? According to RapidRatings, businesses can assess their financial fitness by looking at their resiliency short-term and comparing the Financial Health Rating (FHR) to their mid-term risk and their efficiency in what they call a Core Health Score (CHS).  It's a complicated calculation that can help businesses assess their efficiency in correlation to risk, and has been recognized as an effective barometer when it comes to identifying companies facing serious financial crises.  Nine out of ten companies identified as high risk in the past two decades have, in fact, fallen into default.
Subchapter V Options
With the number of retail bankruptcies on the rise, delays in court proceedings could cause problems for some.  What does that mean?  If you think you have a strong potential of filing, do so sooner rather than later.  Gather up your financial documents and get in touch with an experienced bankruptcy attorney now.  Learn about Subchapter V bankruptcy, which can provide augmented protections for a limited time.  If reorganization is what you're hoping for, this may be your best option.  But because we don't yet know if Congress will extend this provision, the need to move quickly cannot be emphasized enough.
Legal Guidance
If the thought of retail bankruptcy is overwhelming, it's because you're serious about your livelihood and are likely heartbroken at its potential demise.  At the Law Office of Julia Kefalinos, we can provide the guidance you need to successfully navigate through financial difficulties.  Contact our Miami bankruptcy attorneys to schedule a confidential consultation today.
Resources:
forbes.com/sites/forbesbusinesscouncil/2021/01/15/bankruptcy-filings-may-increase-know-your-options-now/?sh=43ca070d13ca
forbes.com/sites/forbesbusinesscouncil/2020/08/19/subchapter-v-a-small-business-lifeline-just-in-time/?sh=358060296042