Relief from Crushing Debt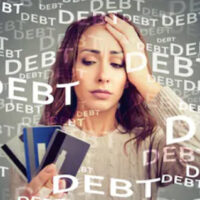 Are you buried under a mountain of debt with no way to claw yourself out?  If so, you're not alone.  Across the country, consumer debt has risen nearly five percent, with mortgage, auto, credit card, and student loans sucking up one of every ten dollars of disposable income on average. Consumers are taking out more loans for more things today than ever. Why has debt grown out of control for so many?
Reasons for Increased Debt
A confluence of factors has impacted the increase in consumer debt across the country:
The Pandemic: Job losses or income reduction due to fewer hours on the job, a reduction in bonuses, and fewer opportunities for advancement nationwide have forced families to tighten their belts.  But some essential expenses don't go away with the loss of a paycheck.  Monthly housing, food, medical and transportation costs continue to demand attention, forcing families further into debt.
Scams: Covid-19 has proven to be quite an opportunity for unethical scammers trying to make a buck off of unsuspecting consumers.  Whether it's a "miracle" cure, "special opportunities" to purchase hard-to-get materials due to consumer panic, or "specialized" equipment designed for COVID protection or doomsday scenarios, scammers have laid many a trap for trusting Americans.
Deficits in Financial Literacy: Studies indicate that Americans lack basic understanding related to finances, investment, and money management.
Debt Statistics
As a whole, consumer debt has been on the increase.  Here's what we know:
Per person, the average credit card debt is nearly $5,400;
Personal loan debt averages just over $16,000;
Three in four consumers have a credit card balance exceeding $6,200;
The average student loan is for over $86,000.
Signs of Trouble
Many people become accustomed to debt, and believe it is a normal part of life.  This can be true as long as debt does not become problematic.  Indications that debt is becoming an issue include:
Collectors start calling or sending notices;
You are forced to work overtime in order to address spending;
You have to dip into savings to take care of everyday expenses;
You consistently go into overdraft, hit credit limits, or are denied credit.

Tackling Debt
A number of strategies can help you manage your finances:
Write up a budget and stick to it;
Stop buying on credit except for urgent needs;
Reduce spending where possible;
Negotiate lower interest rates with creditors;
Get help from a local, experienced debt relief attorney.
We Can Help
Serious debt can have significant impacts on your life.  In addition to the obvious issues with creditors, the effects of debt on your physical health, your marriage, and even the behavior and school performance of your children have been well documented. At the Law Office of Julia Kefalinos, our Miami debt relief attorneys can address the specifics of your debt issues and assist you in making well-informed, positive decisions to address your financial situation.  Contact us to schedule a confidential consultation today.
Resource:
dartmouth.edu/press-releases/debt-affects-wellbeing012116.html