How the Covid-19 Response May Affect Your Student Loan Obligations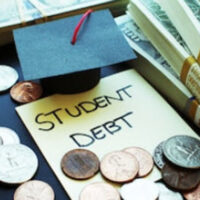 Even under normal circumstances, many Florida residents struggle to repay their student loan debt. And as we all know, we are not living in normal circumstances. The rapid spread of the Covid-19 disease throughout the United States–and the accompanying economic shutdown designed to mitigate its impact–has already devastated the livelihoods of millions of workers nationwide.
So what does all this mean for your student loan debt? The federal government has already taken some steps to address this question. And we are likely to see additional measures in the coming weeks and months. While this remains a volatile situation, here are a few things we know as of March 27, 2020.
The Department of Education's Actions
On March 20, the U.S. Department of Education's Federal Student Aid office confirmed an earlier directive from the White House waiving interest on all loans owned by the federal government. This means that if you have a Direct Loan, Federal Perkins Loan, or Federal Family Education Loan owned by the Department of Education, your interest rate will be set to 0 percent for at least 60 days, starting on March 13, 2020. If you continue to make student loan payments during this time, the full amount will be applied to the principal of your loan.
The March 20 directive also allowed borrowers to apply for an "administrative forbearance." This means you can ask the Department of Education for permission to stop making any federal student loan payments without becoming delinquent. No interest would accrue during this time. The Department added that it would automatically place anyone who was at least 31 days behind on their payments as of March 13 into administrative forbearance.
The CARES Act
On March 27, Congress was expected to pass the Coronavirus Aid, Relief and Economic Security (CARES) Act, and send it to President Donald J. Trump for his signature. In addition to providing direct financial support for individuals and businesses impacted by the Covid-19 pandemic, the legislation also includes additional measures to help borrowers with their student loan debt.
Basically, the CARES Act would extend the 60-day suspension of student loan interest and payments described above to six months. This means that if you have an outstanding federal student loan, you would not be penalized for any late or missed payments up and until September 30, 2020. This is also an automatic suspension, so you would not have to request administrative forbearance or take any other formal action.
The CARES Act also directs the Department of Education to suspend collection efforts on any student loans in default. The Department previously announced it was suspending such efforts on its own initiative, again retroactive to March 13. But the legislation confirms that the federal government will stop all wage garnishments and tax refund seizures, and instruct private collection agencies to stop contacting borrowers.
Get Help from a Miami Student Loan Debt Relief Attorney Today
While the efforts of Congress and the administration are welcome news to millions of student loan borrowers, it is important to note that the measures described above only apply to federally owned loans. They do not, as of this writing, cover private student loans. And once again, this situation is subject to additional changes.
If you need legal advice regarding your student loan debt, contact a Miami student loan debt attorney at the Law Office of Julia Kefalinos today. We know this is a challenging time for everyone. If you are in need of any legal service, we are here to help.
Our office will remain open as long as possible, either to meet with you in person or via Skype, FaceTime, WhatsApp, or and other video conferencing software, while following all safety precautions recommended by the Centers for Disease Control and Prevention.
So please do not hesitate to contact us if you require assistance. Stay safe and healthy in the weeks to come!