Buried In A Mountain Of Student Loan Debt?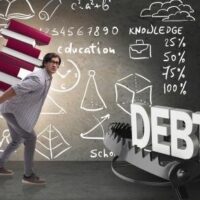 If you're feeling overwhelmed by your– or your child's–student loan debt, you are not alone!  In 2020, student loan debt in this country reached over $1.7 trillion, involving over 44 million borrowers. Nearly three-fourths of these loan accounts were described as in deferral or forbearance. That means loan balances are seeing substantial increases. If you are concerned about a possible debt default, now is the time to consult with a local experienced student loan debt attorney.
Loan Balances Growing
As consumers defer making payments on their student loans, those loan balances creep up.  Recent increases have been roughly 9 percent—meaning more than $3,000 per loan.
For a U.S. consumer with an average loan balance of about $35,000-$36,000 in 2019, the balance jumped up to nearly $39,000 in 2000.  Here in Florida, the average loan balance started slightly higher at $37,350 in 2019, so it topped out at nearly $41,000 in 2000.  Additional statistics that may give you pause include:
Over half of graduating seniors who attended a nonprofit or public school had some amount of student debt;
Nearly 90 percent of seniors who graduated from a for-profit college had outstanding loans;
Within 12 years of graduation, almost half of those who graduate with loans for for-profit colleges default, compared to 14 percent of graduates from nonprofit colleges.
Pandemic Protections
Fortunately for many, protections instituted to assist those with student loans during the COVID crisis helped reduce the delinquencies across the nation. However, the loan forbearance provisions that were enacted to assist those with student loans are going to expire in September 2021.
Public Student Loan Forgiveness
According to 2020 statistics, over 230,000 submitted applications for student loan forgiveness, but only 3,775 were approved for PSLF.  For those who received forgiveness, the average loan balance that was erased was over $75,000.
Is Loan Cancellation on the Horizon?
The Biden administration has been talking about student loan cancellation for some time now, but we have not seen a timeline toward that end. While some advocates are expecting an extension of the loan forbearance program at a minimum, others are putting pressure on the White House to cancel as much as $50,000 in an executive action by September. President Biden, however, prefers to cancel $10,000 in debt through Congressional action.  When and how much, if any, debt relief comes to those with student loans remains to be seen.
If You're Behind on Payments
An uncertain future makes it difficult to know what to do about student debt.  If you're behind, you should most certainly contact your lender to explain your status and discuss options going forward.  Oftentimes loans can be suspended temporarily due to financial strains like unemployment or medical issues.  Other  options include exploring changes to your repayment plan, and even considering loan consolidation. Your main goal is to avoid defaulting on your loan and destroying your credit rating.  At the Law Office of Julia Kefalinos, our experienced Miami student loan debt attorney is familiar with all of the issues and can offer a variety of interventions to garner the best possible outcomes for you. Contact our office today for a confidential consultation.
Resources:
nbcnews.com/politics/white-house/white-house-promised-memo-biden-s-authority-cancel-student-debt-n1268681
experian.com/blogs/ask-experian/state-of-student-loan-debt/