How Could an Accidental Omission from My Bankruptcy Petition Affect My Ability to Obtain a Discharge?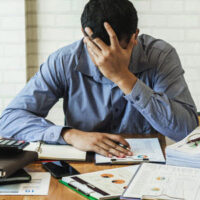 A Chapter 7 bankruptcy can give you a fresh start free of your current debts. But when seeking bankruptcy protection, it is critical that you are open and transparent with the court about your finances. If you attempt to hide income or assets, the judge can deny you a discharge of your debts–meaning you will still be on the hook for your debts after the bankruptcy ends.
Judge Rejects Creditor's Demand for Summary Judgment in Chapter 7 Case
At the same time, if you made an honest mistake or oversight in your bankruptcy filings, you can still obtain a discharge, so long as you own up to the error. A recent decision from a bankruptcy judge in West Palm Beach, In re Bianca, provides a useful illustration of how this can work.
The debtor in this case worked as an aesthetician, i.e., someone who provides treatments at a spa. While working for a prior employer, she signed a non-compete agreement. However, the debtor subsequently left the employer and started a competing business in violation of said agreement.
The employer then sued the debtor in Florida state court to enforce the non-compete. While this litigation remained pending, the debtor filed for Chapter 7 bankruptcy in federal court. In her bankruptcy filings, the debtor failed to identify income that she received through online payment processors for providing home spa treatments to private clients.
The employer, which filed its own claim in federal court claiming its potential damages under the non-compete agreement were not dischargeable in bankruptcy, then sought "clarification" regarding this income. In response, the debtor amended her bankruptcy filings to accurately reflect her pre-filing income.
Nevertheless, the employer argued that the debtor's initial failure to disclose the income meant the bankruptcy court should deny her a discharge. The debtor insisted she made an honest mistake.
The bankruptcy court ultimately denied the employer's motion for summary judgment on this issue. While reserving a final decision, the judge noted that the Chapter 7 trustee appointed to oversee the debtor's bankruptcy estate "has not indicated that Debtor's records demonstrate malfeasance." Indeed, the trustee issued a "Report of No Distribution," meaning the debtor had no non-exempt assets that could be taken and given to her creditors in the first place.
That said, the bankruptcy judge said a "deeper analysis" was necessary to determine whether the "debtor's actions rise to a level sufficient to warrant denial of discharge, or if this adversary proceeding simply represents the continuance of a pre-petition state court action."
Speak with a Miami Chapter 7 Bankruptcy Lawyer Today
Making a mistake when filling out your bankruptcy petition can prove costly. Even if it does not result in a denial of discharge, the added time and worry of dealing with the type of adversarial proceeding described above can aggravate an already stressful situation. That is why you always need to be upfront about your financial situation–and why you should always work with a qualified Miami Chapter 7 bankruptcy attorney. Contact the Law Office of Julia Kefalinos today at 305-676-9545 today if you need to speak with someone right away.
Special Covid-19 Notice
We know this is a challenging time for everyone. If you are in need of any legal service, we are here to help.
Our office will remain open as long as possible, either to meet with you in person or via Skype, FaceTime, WhatsApp, or and other video conferencing software, while following all safety precautions recommended by the Centers for Disease Control and Prevention.
Please do not hesitate to contact our Miami Chapter 7 bankruptcy attorneys if you require assistance. Stay safe and healthy in the weeks to come!
https://www.kefalinoslaw.com/when-can-you-discharge-an-unpaid-tax-bill-in-bankruptcy/