A Fresh Start In 2022: Chapter 7 Bankruptcy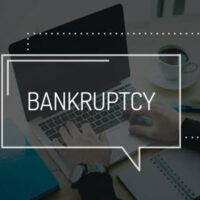 As the new year opens up new possibilities, perhaps it's time for you to consider the ways in which filing for Chapter 7 bankruptcy could give you a fresh start in the coming year.  If you're feeling overwhelmed by debt, it could be just the ticket.  While just the word "bankruptcy" may bring anxiety and shame to mind, the fact of the matter is it could be exactly what you need to escape the anxiety and shame you're already feeling.
First things first: no judgment!
If you are reluctant to take on bankruptcy because of the stigma associated with it, you should realize that the feelings of guilt or shame you have are an unnecessary burden you've put on yourself.  It's an indication of the fact that you do have a sense of morals and responsibility.  You're not a failure who will forever have to wear a scarlet letter proclaiming your bankruptcy to the world.  Most people, in fact, will never know about it unless you choose to share the information. And you need to realize that the majority of people who file for bankruptcy have come upon hard times due to job loss, illness, or other factors outside their control. It's definitely not a sign of a character flaw or an indication that someone is a loser.  To be sure, people from all walks of life find themselves up to their eyeballs in debt.  So quit judging yourself and make a decision to improve your situation.
You don't have to dodge creditors anymore!
Perhaps one of the biggest benefits of filing for Chapter 7 bankruptcy is the sense of relief you will experience the minute your case is filed with the court.  As quick as you can snap your fingers, the calls, letters, repossessions and garnishments will be a thing of the past. You can breathe freely as you and your bankruptcy attorney figure out next steps.
Exemptions allow you to keep some of your property!
While creditors may want to repossess everything you own, you may have the opportunity to keep items you don't want to part with, including your vehicle. Other assets will be liquidated in order to pay off creditors, keeping them off of your back permanently.  Debts that are not discharged (such as child support and certain other debt) must still be paid.
Putting it all together for you…
At the Law Office of Julia Kefalinos, you will receive our thorough, professional guidance as we guide you through the Chapter 7 bankruptcy process. Your fresh start is just a phone call away.  Contact our Miami Chapter 7 bankruptcy lawyers for help today.
Resource:
uscourts.gov/services-forms/bankruptcy/bankruptcy-basics/chapter-7-bankruptcy-basics