Environmental Crime Defense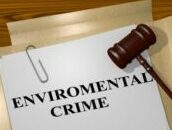 If you are being investigated for environmental crimes, you could be looking at time in a federal facility if found guilty.  This is a grave situation—one that deserves the attention of an experienced and dedicated environmental criminal defense lawyer.
What is an Environmental Crime?
The Environmental Investigation Agency breaks up environmental crimes into five expansive areas, each with national and international support:
Trading Wildlife:  The 1973 Washington Convention lays out clear rules as to the trade or sale of Flora and fauna. Exotic animals are increasingly becoming the subject of attention in the media, in part due to the declining populations of elephants, rhinos, and other animals due to poaching, not to mention the impact of fauna losses on many species.
Trading Ozone-Depleting Substances (ODS): Without getting too technical, it is illegal to obtain substances like chlorofluorocarbons (CFCs) or hydrochlorofluorocarbons (HCFCs) on the black market. It is the buyer's responsibility to be sure they are making a legal purchase of material that meets industry standards for quality.
Improper Handling of Hazardous Waste:  Waste products that have the potential to harm the environment or human health must be properly transported and disposed of.  The EPA provides clear guidelines on the disposal of all corrosive, ignitable, and toxic materials.
IUU Fishing:  When commercial fishing occurs in illegal, unregulated, or unreported ways, legitimate efforts to manage and conserve fish stock are interrupted.
Illegal logging and lumber trade:  The United States is the biggest consumer of wood and other products from forests, meaning that in addition to what we grow, we import quite a bit from other countries.  It is a purchaser's duty to pay attention to where products are coming from.
Penalties for Environmental Crimes
A civil trial requires a prosecutor to demonstrate with a preponderance of evidence—beyond a 50 percent likelihood—that a crime occurred and doesn't consider whether or not a defendant understood that regulations were being broken. A guilty verdict can result in financial penalties, injunctions to make corrections, and orders to make environmental improvements.
A criminal conviction, however, requires that guilt be proven beyond a reasonable doubt, and some degree of intent is required. Guilty parties could face massive fines in addition to having to pay restitution for costs incurred to address the situation, as well as incarceration.  The amount of time behind bars is a mathematical calculation based on the facts of the case, leaving judges little to no discretion.
Case Studies
One Florida businessman received a 30 month sentence for illegally importing ODS materials. The term was followed by three years of supervised release, and the corporation itself was put on probation for five years. Fines totaling well over $1 million were accrued.
Another Floridian who imported tons of CFCs spent 37 months behind bars and parted with over $13 million in assets. The company itself was fined in excess of $37 million.
A Vigorous Defense
Without question, environmental crimes can lead to enormous penalties.  At the Law Office of Julia Kefalinos, our Miami federal crime attorneys will provide a strong and tenacious defense on your behalf.  To get acquainted, contact our office for a confidential consultation today.
Resources:
epa.gov/ozone-layer-protection/ozone-depleting-substances-black-market
unodc.org/documents/NGO/EIA_Ecocrime_report_0908_final_draft_low.pdf