How Florida's New "Red Flag" Law May Affect Your Right to Own a Firearm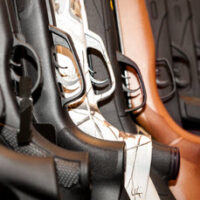 Following the mass shooting at Stoneman Douglas High School in Parkland, Florida, in February 2018, the Florida legislature passed new laws intended to address the ongoing problem of gun violence affecting schools. The new law authorizes law enforcement agencies to seek the removal of a person's firearms with court approval if they pose "a significant danger of causing personal injury to himself or herself or others."
Court Removes Sheriff's Deputy's Weapons After He Made Threats Against Girlfriend's Alleged Paramour
In a September 25, 2019, ruling, the Florida First District Court of Appeal held a domestic violence allegation brought by a local sheriff's department against one of its own deputies was sufficient to justify the removal of the deputy's firearms. The respondent and his girlfriend both worked for the Gilchrist County Sheriff's office. According to court records, the respondent suspected his girlfriend of having an affair and "confronted" her while on the job one day.
During this confrontation, the respondent "became belligerent, exhibited a hostile demeanor and threatened a bystander-fellow officer who attempted to intervene." Later, in a private meeting the respondent told his supervisor that he "wanted to kill" his girlfriend's suspected paramour. The respondent later repeated this to other officers. Eventually, the respondent was placed under a mental health evaluation, but was released after doctors determined he was "not to be at risk for further violence."
Notwithstanding these medical findings, the sheriff's office filed a petition to remove the respondent's weapon. A judge agreed there was "clear and convincing evidence" the respondent "posed a significant danger" to himself or others. The judge cited the threats made against his girlfriend's alleged lover–specifically, his threat to use his service weapon to kill the other man.
The respondent appealed the judge's ruling, but the First District affirmed. The appeals court rejected the respondent's explanation that he was simply "blowing off steam" rather than making a genuine threat. The First District noted that based on the testimony from witnesses, the respondent's threats "were specific and graphic and made by someone with the wherewithal to carry them out." More to the point, the respondent was trained in the use of deadly weapons "and had ready access to firearms."
And while medical professionals did not diagnose the respondent with a mental illness, the appeals court said the new firearms law were designed to address "red flag" situations that did not necessarily rise to the level of mental illness. For all these reasons, the First District said the trial judge's decision to prohibit the respondent from carrying firearms was proper.
Speak with a Florida Domestic Violence Defense Attorney Today
The First District simultaneously rejected a challenge to the constitutionality of this "red flag" law. Indeed, the court noted that much of the language used in the new law mirrored that used in domestic violence statutes, which similarly give judges broad authority to issue injunctions when there is evidence someone is in "imminent" danger.
What this means is that if you are accused of threatening a partner or spouse, it is possible that a judge may take away your right to legally own a firearm pursuant to the new "red flag" law. If you find yourself in this situation, your best option is to work with a qualified Miami domestic violence defense lawyer. Contact the Law Office of Julia Kefalinos today to schedule a consultation.
Source:
1dca.org/content/download/537544/6066635/file/183938_1284_09252019_09405740_i.pdf
https://www.kefalinoslaw.com/do-past-allegations-of-domestic-violence-against-another-person-justify-an-injunction-today/